About West Central Indexing
West Central Indexing (WCI) supplies leading edge software and technology to the land records industry. County Recorders and Title companies throughout the United States trust WCI Software, expertise, knowledge and service.
By combining techniques from Recorder offices and Title Plants, WCI engineered RecordEASE software for Recorders and Title Plant Plus for Title Plants. The unique combination brought advantages to both industries.
For the County Recorder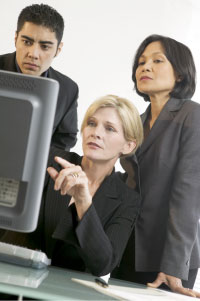 RecordEASE Software incorporates paper and electronic documents into a single recording queue ensuring the county records their documents in the proper order. Features such as electronic recording, Torrens certificate processing, optical character recognition (OCR), and parsed data entry brings speed and accuracy to the recording process.
State and County Recorders who handle Torrens documents and the related certificate management will be amazed at the ease and accuracy of the certificate handling within RecordEASE. This by far is the most advanced certificate management system on the market. Once information is entered into RecordEASE it is transferred to the certificate without retyping it. Recorders can memorialize, cancel, and create certificates all at one time and without retyping the information. RecordEASE will also allow you to see what memorials are certified and uncertified in a real time view while keeping your certificates in numerical sequence.
For Title Plants
Title Plant Plus brings seamless integration with your county recorder. Upon receiving files from the Recorders office they can be dropped right into Title Plant Plus to eliminate data entry and improve efficiencies along with structured data for easy searching and retrieval.