Title Plant Plus Indexing
The Title Plant Plus Indexing module provides the ability to index existing manual tract cards for easy reference with an on-line Tract Card view. The Title Plant Plus Indexing module provides the ability to maintain a complete history including, but not limited to, plat drawings, historical Tract Cards and all subsequently indexed document records. Document images can be captured either internally at your office or electronically via a connection with the County Recorders' Office if available. These documents can be easily attached and indexed manually or with the automated use of rules based logic utilizing Optical Character Recognition (OCR) dramatically reducing the number of manual keystrokes.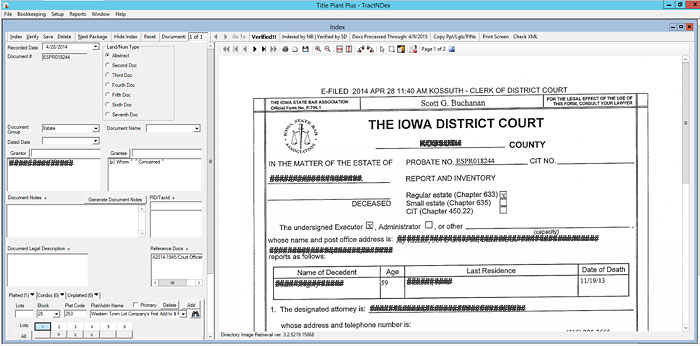 Electronic Document Submission
The Title Plant Plus EDS module streamlines the real estate document process. Documents can be prepared and submitted electronically reducing the need for manual intervention. Documents are formatted to meet Minnesota State Specific Electronic Document requirements, as well as any state or county where PRIA electronic document formatting is accepted.
Any electronic documents that are returned can be easily and seamlessly indexed in Title Plant Plus.
Automated Document Generation
The ADG module allows for the creation of entire documents or document entries such as abstracts, O & E report, etc. from the data stored within your Title Plant Plus system. These documents can then be stored and submitted for recording utilizing the Title Plant Plus EDS module.
Land Records Search
Access to Land Records for both Abstract and Torrens can be easily accomplished through the use of a combination of search methods. A global search can be accomplished or narrow your search by combining two or more of the search criteria.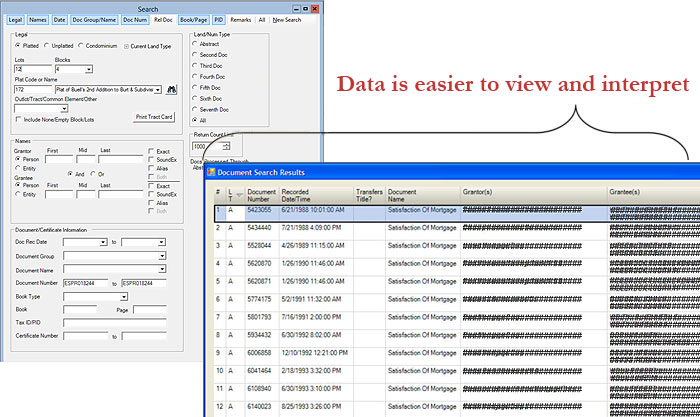 Features & Benefits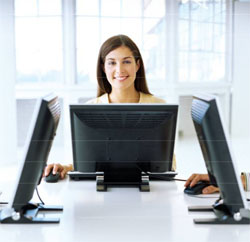 WCI Sales and Support team are involved in defining the customer solution. An individualized custom approach is taken to the implementation process based on the customer's needs and expectations.
Key objectives:

Ensure staff are properly trained on the application software
Complete the implementation thoroughly, on-time and within budget
In addition to normal business hours phone support WCI provides an internet call management system for on-line support via customer email.
On-going software enhancements are included as part of the annual support contract. These enhancements are a result of regulatory changes, customer input and on-going analysis of the software applications. This protects our clients from software obsolescence and maximizes their software investment.
Services Available
Application Support
Installation and Setup
Work Flow Analysis
Technical Support
Hardware Support
Data Conversion
System Requirements
Title Plant Plus software applications run on the Windows 2000/2003 server platform using MS SQL Server.
WCI will provide recommendations regarding servers, peripherals and network requirements as requested by client

Implementation Phases

WCI Implementation Methodology
Work Flow Analysis
Solution Definition

Technical Services
Implementation & Training
Post Implementation Support